Uiterlijk 17 augustus in huis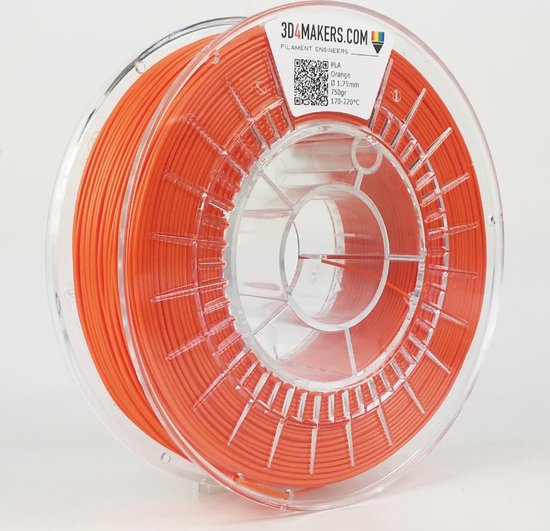 Prijsoverzicht
Webshop
Bestellen Via
Levertijd
Prijs
3D4Makers BV
bol.com
Uiterlijk 17 augustus in huis
29.95
Bestel
PLA Filament (Polylactic Acid) is a biodegradable plastic coming from renewable organic resources (corn starch or sugarcane). PLA Filament is recyclable but can also be biological decomposed in composting plants.
Polylactic acid is a polyester that is built from several lactic acid units. It is colourless and transparent. PLA has a density of about 1.25 kg/cm3. The glass temperature is typically around 50 °C and it as a melting temperature between 170 and 230 °C. The decomposing temperature is roughly 250 °C. Polymers made of lactic acid are flammable.
The 3D4MAKERS has unique properties because it does not come into contact with water during the production process and is directly packaged in a vacuum packaging. These properties make the 3D4MAKERS particularly suitable for usage in FDM and FFF 3D printers. The material has an excellent adhesion between layers which results in great improvement of the impact resistance, strength, durability and the printing process.

The PLA Filament produced by 3D4MAKERS meets the European regulations EC No. 1935/2004, EC No. 2023/2006 and EC No. 10/2011 concerning plastic materials and articles coming into contact with food. The colorants used by 3D4MAKERS to colour the Filament also meet these European regulations.

Print temperature: 170 - 220°C
Bed temperature: 20 - 60°C
Specificaties
Specificatie
Waarde

Artikelinformatie

Merk
3D4Makers B.V.
Kleur
Orange | RAL 2008 | Oranje

Specificaties

Printmateriaal
PLA

EAN

Overige kenmerken

Compatibel met
Alle Filament 3D Printers
Diameter
1.75 mm
Filament opties
Biologisch afbreekbaar
Gewicht
1250 g
Taal handleiding
Engels
Verpakking breedte
214 mm
Verpakking hoogte
63 mm
Verpakking lengte
222 mm