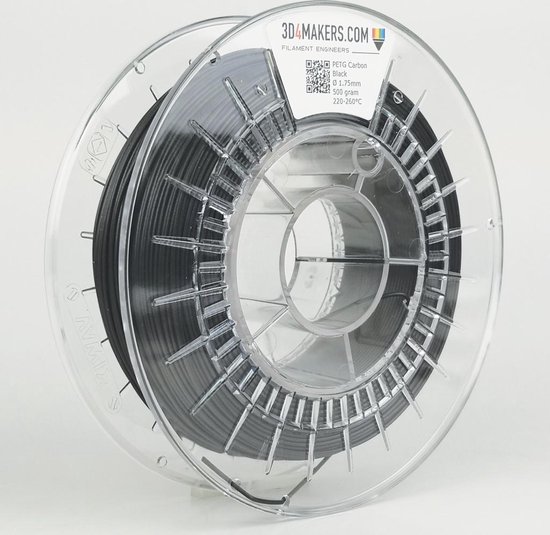 PETG Carbon Filament is a Polyethylene Terephthalate reinforced with carbon fibers. Due to the carbon fibers compounded in the PETG you can create 3D printed parts with exceptional stiffness, great dimensional stability and excellent suface quality. This filament is highly suitable for printing a wide range of industrial applications like frames, drones, tools, parts for the automotive and more.
Abrasive please be aware of the wear of carbon filled filaments. We advise to use a hardened steel nozzle.
Increased Impact Resistance compared to regular PETG
Easy to Print.
Great Dimensional Stability.
Extremely Stiff.
No Warping.
PETG Carbon Filament Material Properties
Density 1.317 g/cm³
Charpy impact Strength 4.03 KJ/m2
Tensile Strength 52.9 MPa
Elongation at tensile strength 2.4%
Tensile Modulus 4,015 MPa
Deformation at Flexural Stress >4*%
Flexural Modulus 2,987 MPa
Shore D Hardness 76.4
Glass temperature tg 76°C
Print Settings
Print Temperature: 225°C (220-260 °C).
Bed Temperature: 60°C
Print Speed: 50 mm/s
Specificaties
Specificatie
Waarde

Artikelinformatie

Merk
3D4Makers B.V.
Kleur
Black | Zwart

Specificaties

Printmateriaal
PETG

EAN

Overige kenmerken

Compatibel met
Alle Filament 3D Printers
Diameter
2.85 mm
Filament opties
Glanzend
Gewicht
1000 g
Taal handleiding
Engels
Verpakking breedte
214 mm
Verpakking hoogte
63 mm
Verpakking lengte
222 mm