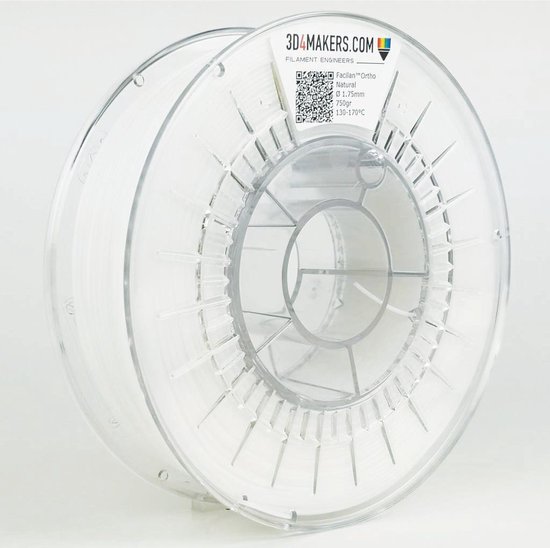 Facilan™ Ortho 750 gram
Facilan™ Ortho is a high-performance 3D printing filament developed specifically for orthotics applications.
Facilan™ Ortho can also be used in soft braces, corrective braces, shoe soles and other similar applications. We've developed this material in concert with orthotics producers, orthotics fitters and people who wear orthotics in order to develop the perfect filament for 3D printing orthotics.
Facilan™ Ortho is a polyester that is semi-crystalline leading to a clean white final appearance.
The density of Facilan™ Ortho is around 1.2kg/cm 3 and it has exceptional mechanical properties.
Facilan™ Ortho melts around 60°C which makes it a safe thermoplastic to print.
With a glass transition temperature of -60°C the product is extremely flexible and tough.
Facilan™ Ortho is a high-quality biodegradable plastic based on a thermoplastic fulfilling compostability according to EN13432.
The unique properties of Facilan™ mean that it has excellent adhesion to textiles. This means that 3D printed parts can be combined easily with or bonded to textile inserts, midsoles or other brace or shoe parts.
Due to the low melting point of Facilan™ Ortho, it can be re-shaped after 3D printing with 55 °C water.
Facilan™ Ortho Material Properties
Density: 1.1 g/cm³
Tensile Strength: 45 MPa
Elongation at Yield: 15 %
Tensile Modulus: 350 MPa
IZOD Impact Strength (notched): 8 kJ/m2
Shore D Hardness: 46
Heat Deflection Temperature (0,45 MPa): 57 °C
Print Settings
Bed Temperature: 30-45°C
Adhesion: PEI Sheets
Print Temperature: 130 to 170°C
Print Speed: 20 - 40 mm/s
Notes: This material will flow readily from your nozzle, for best results use extra cooling on your model and bed.
Specificaties
Specificatie
Waarde

Artikelinformatie

Merk
3D4Makers B.V.
Kleur
Natural

EAN

Overige kenmerken

Compatibel met
Alle Filament 3D Printers
Diameter
1.75 mm
Filament opties
Flexibel , Biologisch afbreekbaar
Gewicht
1250 g
Taal handleiding
Engels
Verpakking breedte
214 mm
Verpakking hoogte
63 mm
Verpakking lengte
222 mm