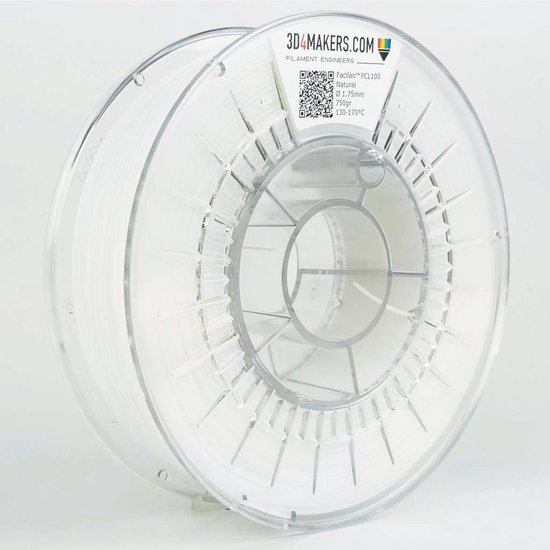 Facilan™ PCL 100 Polycaprolactone Filament
Facilan™ PCL 100 it is perfect for high-value applications such as medical research.
Our customers use our PCL for research into artificial trachea, smart materials, scaffolds for tissue engineering, bioabsorbable implants, drug-loaded implants and other cutting-edge applications.
Facilan™ PCL 100 is used by many leading universities and research centers worldwide for bleeding edge work in bioprinting and patient specific medical research.
Facilan™ PCL 100 is very flexible and tough with a glass transition temperature of -60 °C and a print temperature of around 120°C.
Facilan™ PCL100 is polycaprolactone homopolymer with a molecular weight of 50000 g/mol.
Facilan™ PCL100 is a semi-crystalline aliphatic biodegradable polyester with white final appearance.
Filament produced by 3D4Makers is based on raw material produced in compliance with the European regulations EC No. 1935/2004 and EC No. 10/2011 concerning plastic materials and articles coming into contact with food.
The material has an amazing adhesion between layers which results in great improvement of the impact resistance, strength, durability, and printability.
Due to the low melting point, of Facilan™ PCL100 it can be reshaped after 3D printing in water with a temperature of 55 °C.
Facilan™ PCL100 Material Properties
Density: 1.1 g/cm³
Tensile Strength: 45 MPa
Elongation at Yield: 15 %
Tensile Modulus: 350 MPa
IZOD Impact Strength (notched): 8 kJ/m2
Shore D Hardness: 46
Heat Deflection Temperature (0,45 MPa): 57 °C
Print Settings
Bed Temperature: 30-45°C
Adhesion: PEI sheets
Print Temperature: 130 to 170°C
Print Speed: 20-40 mm/s
Notes: This material will flow readily from your nozzle, for best results use extra cooling on your model and bed.
Recommended restrictions
Do not use in medical applications involving permanent implantation in the human body.
3D4Makers Polycaprolactone Facilan™ PCL 100 is one of the most extensively used bioprinting and medical 3D printing research materials worldwide.
Specificaties
Specificatie
Waarde

Artikelinformatie

Merk
3D4Makers B.V.
Kleur
Natural

EAN

Overige kenmerken

Compatibel met
Alle Filament 3D Printers
Diameter
2.85 mm
Filament opties
Biologisch afbreekbaar , Flexibel
Gewicht
1250 g
Taal handleiding
Engels
Verpakking breedte
214 mm
Verpakking hoogte
63 mm
Verpakking lengte
222 mm